ADATEC was established in 2009 after a decade of experience of the founding members in the field of advanced research and technological development in Electronics, Computer Science, Industrial Automation and Biomedical Engineering. The philosophy of ADATEC is based on direct collaboration and interaction with the customer to conceive, design and produce innovative electronic systems and optimized solutions. ADATEC believes in the collaboration and continuous exchange of ideas with the customers, and merges old analysis tools with the latest digital technologies. The close link with research institutions guarantees a continuous updating of skills.
WEB site: http://www.adatec.it/
Role of ADATEC in the project INGENE
Within the project, ADATEC will follow the various phases of the design and realization of AUTOMA, will participate in the development of a specific electronics (main unit) and the communication protocol between the main unit and particular sensors for the measurement of position and force.
Profile of staff engaged in the project
Giuseppe Zupone
graduated in 2003 in Electronic Engineering with a specialization in Biomedical Engineering. He is currently the CEO of Adatec srl, of which he is also a founding member. In the 7 years of activity in the company he has followed and developed several private, regional, national and European projects. In recent years, he has acquired considerable experience in the low-level programming of microcontrollers of different families (STMicroelectronic, CyPress, Microchip, Texas) and the programming of high-level software for PC and Android. Some of the most significant projects include: the design of a sensorized shoe, a thermal camera system for railway safety, a security system for the control of a paper mill's engines, a system for acquiring physiological signals within a European project. He has also a significant experience in the processing and conditioning of analog and digital signals acquired during the years of work at the University of Pisa, from 2003 to 2009.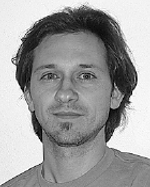 Mario Tesconi
graduated in Electronic Engineering (University of Pisa, 2001). Since 2009, he works at Adatec srl, of which he is a founding member. In the company, he is in charge of the development of new products, in particular in the design, first prototyping and engineering of new products. He has followed several National and European projects, including: a device for the measurement of electrosmog, a proximity system for the safety of machine for marble extraction and control boards for paper mills. In 2007, he obtained the PhD in "Robotics, Industrial Automation Systems and Bioengineering" at the University of Pisa. Since 2002, he has collaborated with the University of Pisa and with the Pisa Research Consortium (CPR) on several national and international research projects.